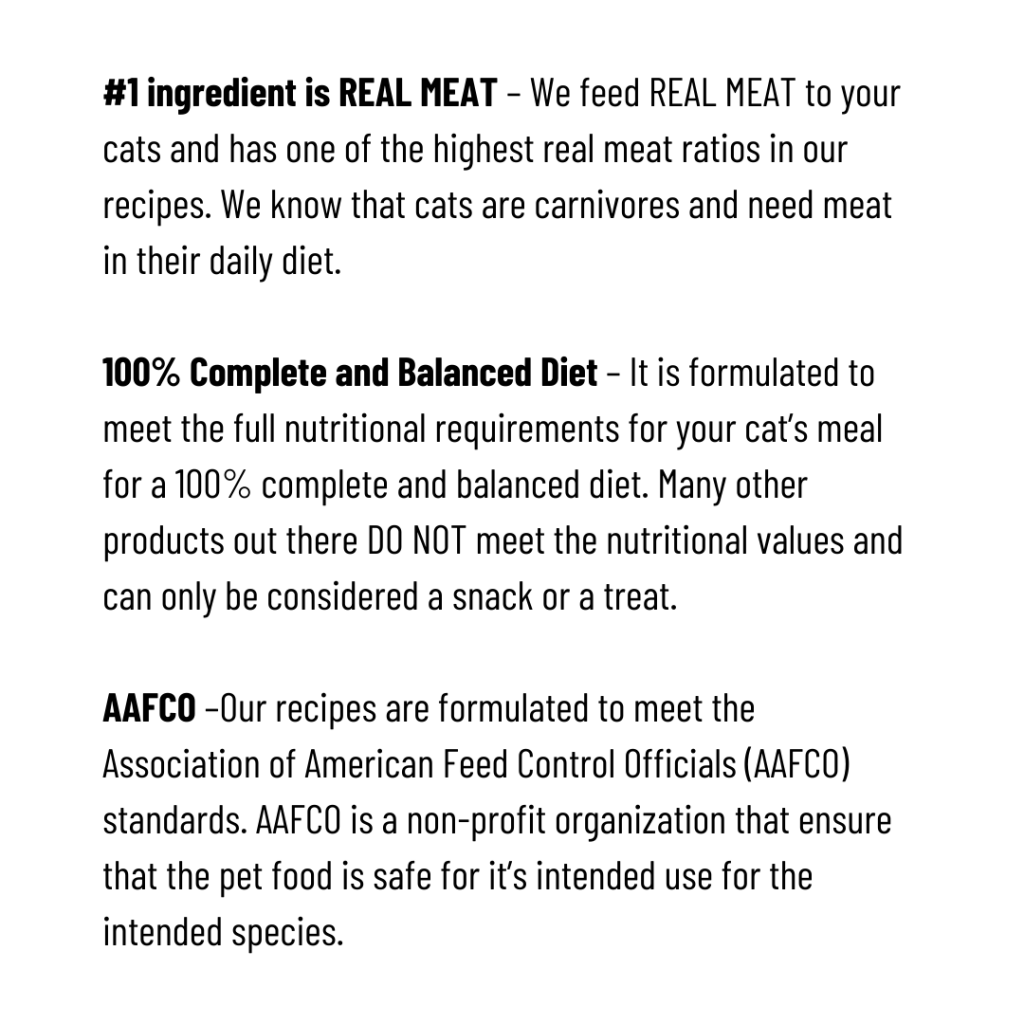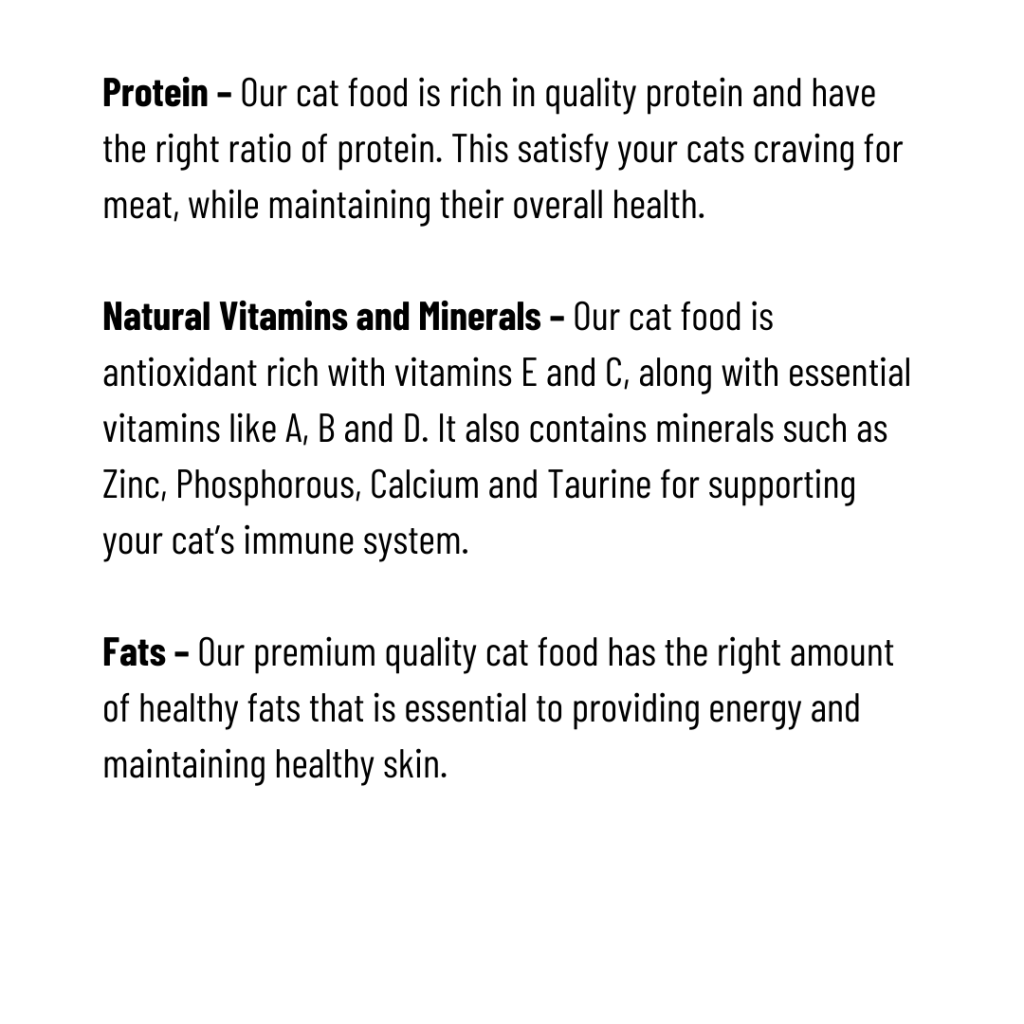 Signature 7 have crafted a simple Monday to Sunday meal guide that will enhance your cat's overall well-being. Our meal plan makes sure your cat receives high-quality proteins, supplements and vitamins daily. It also reduces the stress of the pet owners of having to select what kind of meal for their cats every day.
Our cat food is 100% complete and balanced approved by AAFCO, having no artificial ingredients, no pork/lard, grain-free and suitable for all life stages. Our meal contains lots of real meat (more than 50 per cent of meat) into each can of product. We included a different supplement every day to improve their health from top to toe.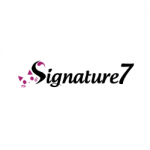 | | | | |
| --- | --- | --- | --- |
| Day | Meat Base | Ingredient | Key Functions |
| Monday | Mackerel + Pumpkin | Tuna Oil | Healthy Skin and Coat |
| Tuesday | Sardine + Shrimp |  Pea Fiber and Flaxseed | Weight Management |
| Wednesday | Mackerel + Carrot | Glucosamine | Healthy Bones |
| Thursday | Whitemeat + tuna | Cranberry Juice | Healthy Urinary Tract |
| Friday | Mackerel + Shrimp | Prebiotic | Digestion and Gut Health |
| Saturday | Sardine + Pumpkin | Yucca and Green Tea Extract | Anti Ageing |
| Sunday | Whitemeat + Tuna | Fructooligosaccharide | Hairball Control |

Click on our participating retailers for more details.
FAQ
What is AAFCO Standard?
To have "complete and balanced" in the nutritional adequacy statement, cat food must either:
When you see a reference to either an AAFCO nutrient profile or a feeding trial using AAFCO procedures on a pet food label, you're better assured that the "complete and balanced" claim is valid. Endorsements and seals of approval from other organizations are not assurances of nutritional adequacy and may be misleading. Signature 7 provides complete and balanced for all life stages and is comparable to a product which has been substantiated using AAFCO feeding tests.
Decoding the Food Labels
For human food, ingredients on the labels are arranged in descending order according to the percentage of weight that is factored in the product. The same logic holds true for the nutrition information on Signature 7 wet cat food too. Every Signature 7 can lists the meat and water as the first two ingredients in the label. This way, you know you're getting real wholesome quality cat food that your cat needs to maintain and stay healthy.
Signature 7 is grain-free! Plus there's taurine inside each can, an important amino acid that helps maintain good heart health and vision.
Guaranteed Analysis
Signature 7 wet food is high in protein and nutrients. All cans (Monday to Sunday) are consistent in terms of its Guaranteed Analysis. Here's the breakdown
| | |
| --- | --- |
| Crude Protein (min.) | 12.0% |
| Crude Fat (min.) | 0.5% |
| Crude Fiber (max.) | 1.0% |
| Ash (max.) | 3.0% |
| Moisture (max.) | 80% |
Are there any artificial colours or preservatives?
Signature 7 does not contain any artificial colouring, preservatives, or flavours. It contains real meat as it's #1 ingredient, so you're assured you're getting the real nutrition benefits for your cat.
Does it contain any pork or lard?
Signature 7 does not contain any pork or lard. Fish is the main ingredient for all days (Monday to Sunday).